The real face of Islam isn't found in the soft mouthed platitudes given by the CAIR leader and the State Chamber of Commerce, the real face of Islam is found in the Qur'an and in the speeches and writings of their spiritual leader. Despite this the liberals are intent on supporting the Muslims as it is one more group that adds numbers and weight to what the liberals think is a united front against conservative values.


Top Ten Reasons To Condemn Islam
We found these top ten reasons a reasonable person should condemn Islam online and borrowed heavily from various sources on the Muslim faith in this compilation: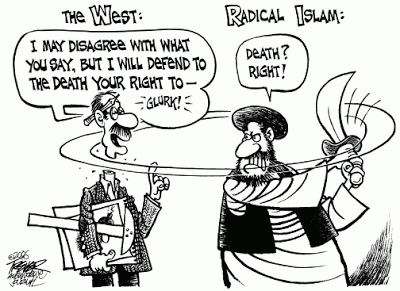 This isn't the warm and fuzzy religion of peace that we are told by the State Chamber of Commerce and the liberal media. The prophet Muhammad pretty much screwed anything that walked, trotted, or shuffled about according to the Qur"an. He was married to thirteen women in total, up to eleven at once, including a nine year old girl, he even stole his adopted son's wife after arranging a hasty divorce. Then there were innumerous slave girls and mistresses and women raped after watching their husbands and fathers butchered by an Islamic army.