May 14th 20017 Newsletter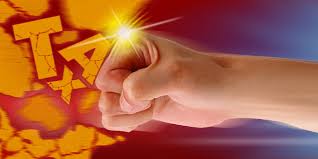 House Bills 2403 and 2347:
A Hundred Million Dollars in Tax Increases Coming up Next Week on One Bill Alone
Two House Bills that need phone calls and emails immediately are HB 2043 and HB 2347. Look at the bottom of this newsletter for contact information for the House members and how to find out who your own state representative is.
HB 2403 is a $101,819,000 tax increase on Oklahomans that works by restricting itemized deductions to $17,000 per year for fiscal years 2017-2018-2019. Charitable deductions are not included after an uproar late last week over the harm it would do to charities. Passing committee on an 18 to 7 vote the bill is going to have a hard time getting the 76 votes needed if the Democrats vote in opposition but Democratic Minority Leader Scott Inman and the other Democrats supported the measure . Below is the vote from last Thursday's committee meeting:
Caldwell Cockroft Dunnington Henke
Inman Kouplen Loring O'Donnell
Ortega Osborn (L) Ownbey Pfeiffer
Proctor Roberts (D) Sanders Sears
Bennett (J) Biggs Calvey Casey
HB 2347 is essentially the same bill without the charity donation protection. Votes for that bill in committee are below but they are from the Monday vote before the charities started howling :
Biggs Caldwell Casey Cockroft
Dunnington Echols Henke Jordan
Kouplen Loring O'Donnell Ortega
Osborn (L) Ownbey Pfeiffer Proctor
Roberts (D) Russ Sanders Sears
These bills will be part of the 2017 RINO Index along with the other tax and fee raising bills. What we are doing different this year is after completing the RINO Index a few weeks after the session closes we will be emailing the results to the hundreds of people that signed up to run for office in 2016, including the opponents of all those new freshmen legislators. The goal is to show that the tax hogs are vulnerable so that these former challengers start their 2018 campaign early.
We would remind everyone that Zack Taylor won the old Tom Newel seat by just 28 votes so they might want to think twice before voting for tax increases. The Democratic nearly took that formerly safe "Republican" house seat.