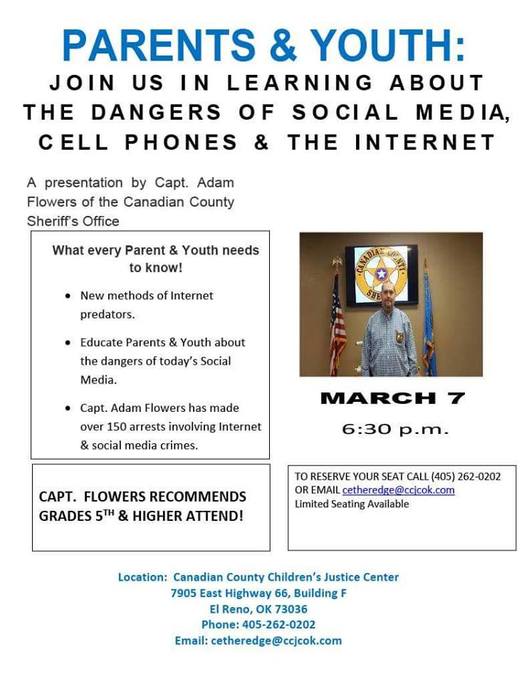 Canadian County Child Porn Scandal Continues
We left you last week with the latest on Canadian County Sheriff Department's mounting scandal involving a non police officer who has been promoted to "captain" due to his work in entrapping child porn and lonely losers on Craigslist.com. Despite being accused of disseminating child porn to a co worker, lying to the local District Attorney over polygraph tests, and lying on the witness stand on alleged confessions that might never had occurred, Sheriff Chris West continued to stand by his employee as of late last week.
Worse the Canadian County Children's Justice Center has a meeting planned where "Captain" Adam Flowers is scheduled to give a talk to parents and children about the dangers of online messaging and social networks…..
Good lord… has sanity completely left Canadian County? Are they that confident that the scandal will be swept under the rug?
We encourage everyone to attend this meeting if you are in Canadian County and ask the hard questions that need to be asked. However, when one Facebook page owner asked people to do the same the director of the Canadian County Children's Justice Center made a phone call to another local woman that was fairly threatening in our opinion. It seems that the director, Bill Alexander, decided that a different woman, someone that was likely accused by "Captain" Adam Flowers, was behind the Facebook post that asked people to attend the event. Now the post did nothing other than ask people to show up and ask questions, didn't actually say what kind of questions to ask, and it is ludicrous to attack someone for this much less accuse another of posting the post. Luckily for us the wrongly accused woman recorded the conversation…
Alexander starts off by accusing the woman of being behind the post and asking people to show up, something that the wrongly accused woman denies on the taped call. Alexander appears to be in panic mode now that Flowers has been accused by a co worker of disseminating child porn and is frantic to shut down discussion of any of the allegations lest they reflect badly upon his organization.
Alexander disregards the woman's objections and talks about how unfair it would be to ask people to ask questions. When asked how Alexander got the woman's personal cell phone number which was a recently obtained number, Alexander refuses to say where he got the number, saying he didn't think he could tell her that.
At some point Alexander brings up the name "Donna Hayworth" as the owner of the Facebook page where the post was posted asking people to show up at the Flower's event. Eventually the woman asks if Alexander has looked into the allegations against "Captain" Adam Flowers and Alexander immediately goes on the defensive, accusing the woman of "arguing" with him. Alexander goes on to state that he trusts that the law enforcement officer will do their job. Sadly of course, both the OSBI and the Canadian County Sheriff Department have refused to do a full investigation of the allegations.
At one point Alexander accuses the woman and her "group of people" of trying to "ruin" the upcoming class. When asked about the allegations against Flowers Alexander says "its not my job." Alexander goes on to talk about lawsuits and slander and evidence, trying desperately in our opinion to get the woman to back off. The woman continues to press home the facts that she believes that sufficient proof has been given to law enforcement to warrant the investigation and Alexander continues to state that he isn't a police officer and until a court says Flowers is guilty he isn't going to prevent Flowers from coming out to talk to "his kids".
The woman continues to say that she has no desire to attend or be a part of the class yet Alexander continues to bore in and warn the woman that if anyone asks questions they will be forced to cancel the class and harm the children due to lack of information from Flowers. Alexander then demanded that the woman take "their flyer" off her website while the woman continued to state that she wasn't Donna and had no desire to be a part of anything related to the class.
Alexander continues to accuse the woman of posting the info. At some point he accuses the woman of caring about her own case with Adam Flowers, without identifying what case that might be,
Throughout the tape the woman asks if Alexander is going to err on the side of caution or is he going to continue to hold the event despite the accusations from former co workers and Alexander replies that he isn't sure what he is going to do.
We called Bill Alexander later in the week and asked him about the Flower's class. Alexander admitted that he was aware of the allegations but said he wasn't an investigator. We asked what made Flowers so qualified to teach the class and Alexander spoke of the number of cases Flowers has done and his unique set of skills. When asked about the controversy Alexander said that the investigative process needed to be done on Flowers but that the event wasn't the place to call names or make allegations. When asked about the safety of the kids at the event Alexander said that the only threat would be those that came in to cause problems. Alexander admitted that there was a small group causing problems for them and that they were asking their supporters to come and ask questions about Flowers.
Alexander did say that he wasn't belittling those that were asking questions and that an investigation needs to taken seriously. When asked why a man under a cloud was running the class Alexander replied that it was scheduled long in advance. When questioned about the hypocrisy Alexander first said that there was none as nothing had been proven but continued on by saying that he wouldn't want Flowers talking to his kids. However immediately after that Alexander stopped himself and said that maybe he would want Flowers talking to the kids, saying "Or maybe I do, if he is a bad guy maybe he is the right person to be talking to the kids. But I wouldn't allow my kid to go through a class taught by a guy like this unless I was there." We brought up the idea of "to set a thief to catch a thief" and Alexander first said "Yeah" then elaborated that "But I'm not saying he is anything."
Alexander said he had heard pieces of the tape but not the entire tape. We brought up our concerns that the case hadn't been properly investigated and Alexander said that Sheriff Chris West had more integrity in his body than he and fifty other people. "I would absolutely trust Chris West and his integrity to do the right thing no matter who is being investigated." When told that Sheriff Chris West had refused to open an investigation Alexander said " I did not know that until you just said it."
Will the Children's Justice Center err on the side of caution and find another speaker for the event or will "Captain" Adam Flowers be allowed to give the speech despite the accusations and the refusal of Canadian County Sheriff Department to investigate the accusations?
Will the OSBI actually do an investigation after refusing to open an investigation despite the seriousness of the accusations?